"Himan" ga imi kiraware shakaiteki sabetsu no taishou nimo saretekita Koku de, futotta hito ga "kominken" kaifuku o motomete se-ku-su o katarihajimete.

In a country where fat is taboo, hated, and a target of social discrimination, fat people are beginning to seek "civil rights" redress and talk about sex.

BeikokuHatsu Tsuukai-ripo-to
U.S. Dispatch In-Depth Report

KYO DEBUTACHI NO (SEI TO SEI) KAIHOU UNDOU

THE GREAT FAT PEOPLES' (SEX AND LIFE) LIBERATION MOVEMENT

Sekai demo A-me-ri-ka hodo himan ga haijo-sareru koku-hanaku, "sabetsu" to ittemo kagen dewanai. Sono Amerika de tsuita debutachi ga kekki shita. "Debu nimo fustuu ni ikiru kenri ga aru!" to. Soshite, sei o kataru ue de sei hodo reality o tomonau mono wa nai. Tousou no ikkan to shite, debutachi ga sekkyokuteki ni sex o katari hajimete.

As America increasingly makes a world in which fat people feel excluded, to speak of discrimination is no exaggeration. In this America, the arriving "fatties" rose up. "Fat people live normally and have rights!" Additionally, they speak to the key point that sex is increasingly free the so-called "realities", the conventional wisdom which has stalked them. Having named their sexual struggle, fat people are progressively beginning to speak to it.

shuzai/fumi (covering event/writing): Yanagida Yukiko (Yukiko McCarty)
Kono tokoro AMERIKA de, hitahita-to moriagari o misete-iru ugoki ga aru. Ie', kono MU-BUMENTO no ba-ai, "hitahita-to" dewa naku, "noshinoshi-to" toka, isso "dosukoi-dosukoi-to" to hyougen shita hou ga ii no kamoshirenai.

In this place in America, there is an ripple by ripple trend of a swell being seen. No, in this movement's case, it's not "ripple by ripple", but "stroke by stroke", or "shove by shove", it's unsure which expression is better. ("Dosukoi-dosukoi" is something fans shout at sumo wrestlers.)

Wariwari datte ikiterunda! Tachiagatta Americano debutachi.

We're still living! The fat Americans who have stood up.
Go-shouchi no to ari, Amerika wa shijou saikyou tenkamusou no himandaikoku da. Beikokuritsu Kenkou Toukei CENTER no chousa, yaku 6000 Banjin daizatsuha ni itte kokumin sanjin-ni-ichijin no seijin ga himan to iwareru. Masa-ni ishi o nagareba debu ni butsukaru joutai no kono koku ni atte, himan ga genin de shibou-suru mono. Nenkan, 30-Banjin ichinen ni tsuiyareru himan-kanren iryouhi yaku juusanchou en (Beikoku koushuueisei soukan shitsu shirabe). Sasugani, jitai o ure'eta seifu wa 2001-nen Beikoku koushuueisei soukan shitsu no te ni naru "Himan Yobou oyobi Shukushou An" o shien, hongoshi o ireta taisaku ni noridashita.
It's unquestioned, the U.S. is the historical superpower of fatness. From the "U.S. National Health Statistics Center" (NIH? CDC?) research, About 60,000,000 people, roughly one in three adults, are said to be fat. Indeed, in a country where a thrown stone is likely to land on a fat body, fat is a root cause of mortality. Yearly, 300,000 people, and in a year spending on fat-related health costs come to about 13 trillion yen (U.S. Health Commissioners' Chamber notes) (Surgeon General's Office?). As might be expected, the government lamenting this state of affairs in 2001 aided the U.S. Health Commissioners' Chamber's "Obesity Prevention and Reduction Plan", supporting these countermeasures in earnest.
Ichiban, himanja zoukasuru ni shitagai, karera o sabetsu-suru fuuchou mo kencho ni natte kita. Minna futotte irun da kara nakayoku yareba ii you na mon nano da ga, doushite sou wa ikanai you de, himanja wa, ouku no hitobito no bubetsu no shisen ni sarasare', shuushoku, iryou, kyouiko to itta shakaiteki kikai mo seigen sarete-iru, to iu no ga nagai awai no jitsujou datta.
Importantly, accompanying the proliferation of fat people, the tide of discrimination against them has become striking. Although it would be best if we could all get along with fat people, somehow this is not happening, as the contemptuous vision of many is exposed, and work, medical care, education and social opportunities are limited, this having been a long standing state of affairs.
Jissai, genzai AMERICA de, himanja o sabetsu dekinai houritsu ga aru wa, WASHINGTON DC, SAN FRANCISCO hoka, ichibu no chi'iki ni kagirarete iru. Sore yue', himanja wa hikiko-mori ga chi ni nari, issou himan ni hakusha ga kakaru to itta "yowarime ni tatarime" teki na KE-SU mo kesshite mezurashiku wa nai.
Actually, presently in America, there are anti-discrimination laws, though limited to parts of the San Francisco, Washington DC, and some other regions. In this circumstance, for fat people to become confined indoors, giving way to the "yowarime ni tatarime" (literally "to the eye of the weak the evil eye", like "the victimized see through blood-colored glasses") kind of case of spurring still more weight gain, is not unusual.
Tokoro ga, koko ni kite, nagaki fuusetsu ni taeta himanjatachi ga jojo-ni genki ni natte kite' iru no de aru. Iwaku, "Futotte-itatte ii ja nai ka?", "Debu ni mo kenri o!" to, monji de aru no omoi-koshi o agete karera ga shuchou shihajimeta no da.
In this place, coming here, the fat people who weathered a long blizzard are steadily coming into their vitality. To say "Is it bad to be fat?", "To fat people's rights!", those promoting writings for the heavy-hipped have begun to be advocated.
Shoten ni wa "FATTO GA-RUZU GAIDO BUKKU" ya SAIZU-WAIZU to itta TAITORU no debu-hon ga narabi, WE-BU ni wa, BBW hoka no SAITO ga toujou. "Himan Bengo Kyoukai" nado nori no kaisei o motomeru soshiki mo setsuritsu saretashi, "NO-DAIETTO-DE-" naru kinembi sae moukerareta. Sara ni, "Debu = motenai = SEKKUSURESU" no henken o uchiyaburu beku, sei o sekkyokuteki ni katarumonotachi mo tsugitsugi to arawarete iru.
In bookstores fatness books with titles like Fat Girls' Guide to Life and SizeWise are lined up, and on the web BBW and other related sites are appearing. "Fat defense associations", etc, such organizations have been established to seek a revision of the rules. An annual No Diet Day has even been set up. Furthermore, in the effort to strike down the narrow view of "Fat = unwanted = sexless", the people who talk about active/positive/progressive sex are also successively emerging.
HimanDaiKoku AMERICA de minosare-hajimeta "debu to iu ikikata". Futotta karera, kanojora niyoru tai-atari no seiseikaihouundou o nikuhaku RIPO-TO suru.
In the great fat country of America the "fat way of life" has begun to turn for the better. These fat men and women are reporting the force with which they are pushing their "life and sex liberation movement".
---
SEI NO KOE KARA SHIRU DEBU NO RENAI, SOSHITE SEX
THE LOVEMAKING AND SEX OF FAT PEOPLE WHO APPRECIATE THE VOICE OF LIFE
---
Debu wa kakko warui -> dakara motenai -> dakara SEXLESS darou. Sonna youdan ni motozuita henken o uchikudaku koto kara debu no kaihou wa hajimaru. Sei o kataru debutachi no koe' ni mimi o katamukeru!
Fat people are all supposed to be bad -> therefore undesired -> therefore sexless. Fat liberation was started to strike down the prejudice based on these suppositions. Ears are bending to the voice of fat people discussing sex!
---
JINSEI HA SERORI O KAJIRI TSUZEKERU NI WA, AMARI NI MIJIKAI.
Life is too short to continually nibble celery.
---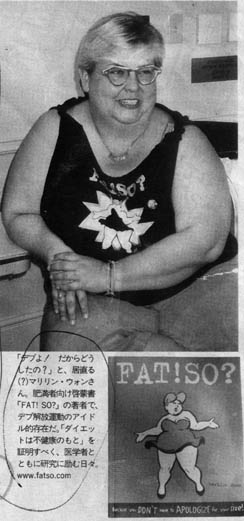 "Debu Yo! Dakara doushita no?" to, inaoru MARIRIN WAN-san. Himanja-muke' keimousho FAT!SO? no chosha de, debukaihouundo no AIDORU-teki sonzai da. "DAIETTO wa fukenkou no moto" o shoumei-subeku, igakusha totomo ni kenkyuu ni hagemu nichinichi.
"Fat! Therefore what?", Marilyn Wann strongly asserts. The author of the fat-targeted zine FAT!SO? has had an idol-like existence in the fat liberation movement. "Diets are unhealthy things", as proven daily by the collective research of physicians.
---
"Fat ("debu") to iu kotoba o sabetsugo to toramaeru hita ga oui kedo, debu de ii ja nai! Himan to ka OVERWEIGHT nante' dairyougo o tsukau hitsuyou wa nai. Taijuu no juukei wa, kotai no tokuhitsu o shimeshite iru nisugimasen. Debu wa debu. Watashi wa, debu to iu kotoba o, dare ni hajiru koto mo naku harebare to tsukaitai to omou."
"Though there are many people who seize on the word "fat" as discriminatory language, to fat people this is not good! It's unnecessary to use substitute words like 'overweight'. A weight term is doing nothing more than indicating an individual characteristic. The fat are fat. I think it's refreshing for people to want to use a word like fat without being ashamed."
Mitake 160cm, taijuu 124kg no MARILYN WANN-san wa, sou itte, tadadesae ouki na mune o issai oukiku hatta. WANN-san wa, debukaihouundou no IDOL-teki sonzai de, chosho ni keimousho FAT!SO? o motsu JOURNALIST da. FAT!SO? to wa, "Debu yo! Dakara doushita no?" no imi. Hanahadashiku hiraki na otta TITLE de wa aru.
The 5'3", 273 pound Marliyn Wann.... (OK, Marilyn, this won't be politically correct) grandly thrust out her massive rack while saying this. ("Ouki na mune o oukiku haru" = to stretch/spread big breasts in a large fashion). In Ms. Wann's idol-like existence in the fat liberation movement, she is the journalist who owns the literary guide book FAT!SO? (Translation for Japanese readers: "Fat! Therefore What?") It's an extremely defiant title.
"Aru hi, koibito kara 'debu wa kirai da' to wakare' hanashi o tsugeraretan desu. Soredake demo, JOKE na no ni, onaji nichi ni kenkouhoken kumiai kara 'Taijuukata no tame kanyuu fuka' to senkoku sareta. Mou ZUTAZUTA desu yo! Nande' futotte iru dake de, konna me ni awanakereba nara nai no? Futotteite nani ga warui! Sono shoudou kara fude o torimashita."
"One day, I have an argument with a lover who said 'Fat is undesireable'. Not only that, but on the same day I get joked at, then an insurance firm pronounces 'Coverage inadvisable due to weight'. Torn and ragged am I! Why only because I am fat, must these eyes be exposed to such things? What's so bad about being fat? It's from these impulses I took up the pen."
WANN-san wa, tokio, goukaini GUAHAHA to warai nagara hanashi o tsuzuketa. "Debu wa taida de, hikkirinashi ni tabeteiru to iu no wa seken no henken. Hito ni yotte shinchin-taisha ga tagau kara, tatoe' shoushoku de hataraki mono de atte mo futoru ba-ai mo arun desu. Sorenanoni, tatoeba kaze' o hiita kara to isha ni itte mo, 'Yaseru koto desu ne' no hitokoto. Kaze' to taijuu ni donna kankei ga aru no yo?! America shakai ni man-en suru, DEBU = fukenkou = baka = waru, to itta sennyuukan ya sabetsu o watashi wa fusshoku shitain desu."
Ms. Wann, at times, laughs in a lively way while continuing conversation. "Society's narrow view would have it that fat people are lazy and incessantly eating. Because metabolisms differ, there are cases where a person fattens even if a hard worker at a spare diet. Nevertheless, for example when one gets a cold and goes to a doctor, "Losing weight is the thing" is his first word. What is the relationship of weight to a cold?! As American society spreads, prejudgements such as fat = unhealthy = stupid = bad and discrimination are what I want to wipe out."
Seiryokuteki na kanojo wa, monokaki no hoka ni katsudouka no kao mo motsu. '01 ni, "Taiju oyobi Mitake Hansabetsu Hou" ga seiritsu shita kiwani, chuushinteki na yakuwari o hatashita no mo UAN-san datta.
This vigorous woman speaks with an energetic face about books and other things. In '01, when a height and weight antidiscrimination code was completed, Wann played a central role.
"Jinsei wa, SERORI o kajiri tsuzekeru ni wa amari nimo mijikai."
Life is too short to continually nibble at celery.
"JUST THE WEIGHT YOU ARE desu!" Wann-san wa sou iu to, mata GUAHAHA to waratte, ookina karada o tama sema nagara satte itta. Sono ushiro-sugata o mi-okoru to, SWEAT PANTS no o-shiri no bunbun ni, FAT!SO? no monji ga KUKKIRI to kakarete ira no datta.
As Wann said this, still boisterously laughing, she turned and was off like a shot, her large body notwithstanding. As I followed her retreating figure, on a portion of her sweat-panted hips, the FAT!SO? logo was emblazoned.
Zembei-saidai no debu dantai, NAAFA o tazunete'
Visiting the largest nationwide fat people's organization, NAAFA
---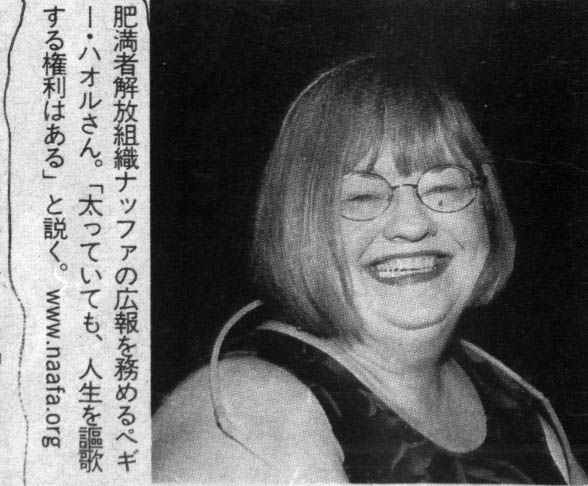 Himanja kaihou soshiki NAAFA no kouhou o tsutomeru PEGI- HAORU-san. "Futotteite mo, jinsei o ouka suru kenri wa aru" to toku.
Fat liberation organization NAAFA's publicity worker Peggy Howell. "The fat also have the right to celebrate life," she explains.
---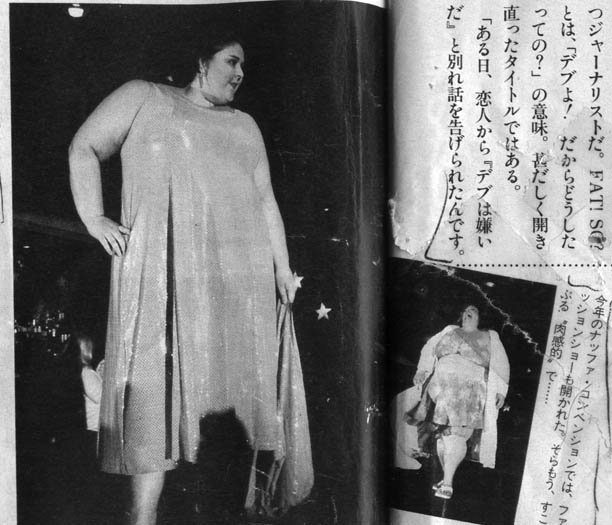 Konnen no NAAFA CONVENTION de wa, FASHION SHOW mo akereta. Soremou, sukoburu "nikukanteki" de.......
At this year's NAAFA Convention, a fashion show opened. A very "carnal" event.....
---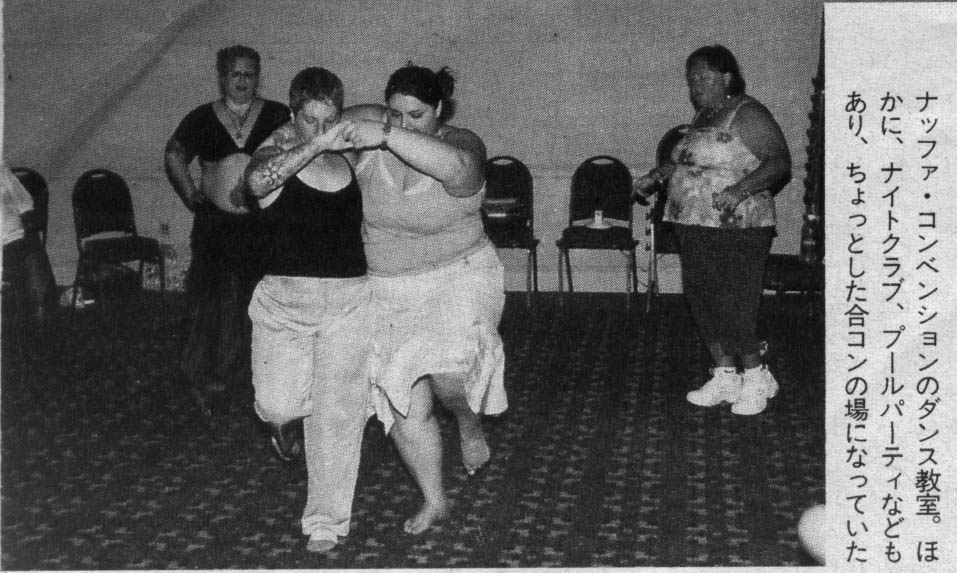 NAAFA Convention no DANSU kyoushitsu. Hoka ni, NIGHTCLUB, POOL PARTY nado mo ari, chotto shita ai KON no ba ni natte ita.
NAAFA Convention dance class. Other events such as night club dances, pool parties etc could be found at the site.
---
WANN-san ga sankashiteiru dantai no hitotsu ni, NAAFA (Beikoku Himan Younin Kaizen Kyoukai) ga aru. Kore wa, '69-nen ni setsuritsu sareta hieiri no himanjakaihousoshiki de, NEW YORK, LOS ANGELES hoka ni zen 6 shibu o mochi, kai-in saku wa 11,000-jin kyou to, himanjadantai to shite' wa zembeisaidai no kibo o hokoru.
The organization in which Mrs. Wann participates is called NAAFA (translated as "U.S. Fat Toleration Improvement Association"). This nonprofit fat liberation org which was founded in '69 has six chapters in New York, Los Angeles and other cities, numbers its members at 11,000, and is proud of its nationwide scope.
"Jinshu, shuukyou, seibetsu, douseiai... sabetsu wa itsuno jidai nimo arimashita. Soshite, kono kuni ni saigo ni nokotta no ga himanja ni taisuru sabetsu na no desu. Tatoeba, ima, AMERICA de kokujin o yayu suru joudan o ittemo daremo waraimasen. Demo, DEBU o karakau GAG wa TEREBI ya manga nado, chimata ni afurete imasu." (NAAFA kouhou - Peggy Howell)
"Race, religion, sexism, homosexuality... discrimination is still with us in this day. Additionally, in this country discrimination confronting fat people has persisted over a long period. For example, now, not many people will laugh at jokes directed at people of color. However, television and comic strips overflow with gags which ridicule fat people." (Peggy Howell, NAAFA's publicity chair)
NAAFA no katsudou wa taibetsu shite' futatsu. Himanja sabetsu o naku subeku, igaku hoka no semmon kenkyuu o SUPPORT suru koto to, himanja ga yutaka na seikatsu o okureru you ni, koen ya WEB, kankoubutsu o tsujite' jouhou o teikyou suru koto da.
NAAFA engages in two classes of activity. To counter fat-discrimination they support the research of physicians and others, and they offer information through workshops, the web, and publications for living an abundant life.
Jimichi no katsudou o tsuzukeru NAAFA da ga, nen ni ichidou, rokunichikan ni watatte' kaisai sareru CONVENTION wa, o-matsuri ni mo hita nigiwai o miseru. Senkoro, SAN FRANCISCO kougai de kaisai-sareta '05-nendo CONVENTION ni mo, zenkoku kara yaku 500-nin mono himanja ga tomari-kome de sanka shita.
To continue these earnest activities, the convention NAAFA holds once a year over six days, where the crowd resembles that of a huge festival. Recently in a San Francisco suburb, about 500 people came from across the country to participate in the '05 convention.
CONVENTION de wa, himan ni kansuru houritsu ya shakaigaku to itta kouha na THEMA kara, himanja-muke' ryokoujutsu ya SEX na do, mijikana wadai o atsukatta kouen ya WORKSHOP, SEMINAR ga tsugitsugi to akareta. Mata, FASHION SHOW ya NIGHTCLUB na do no RECREATION mo moridakusan datta.
At the convention, from hard-core themes of fat-related law and sociology to travel tactics and sex, the closely located lectures, workshops and seminars came in rapid succession to work on such topics. Also, a fashion show, nightclub-style dances and other recreational activities abounded.
Sonna konnen no CONVENTION ni atte, ichiban ninki datta no ga ren-ai ya SEX ni kansuru kouen ya WORKSHOP. Himanja datta, muron sunaru koi na no de aru. Choujuuryoukyuu no nekki ni michita kaijou ni ashi o hakobu to, 8 wari hou ga onna. Mazu wa, kanojotachi no hanashi ni mimi o katamukete miyou....
At this year's convention, the most popular lectures and workshops were those related to lovemaking and sex. As they were fat, naturally it was their love topics which were raised. In a meeting place filled with a supersize level of feverish enthusiasm the crowd stepped in, 80% women. First, let's try to tilt our ears to these womens' conversation.....
"Debu dakara MOTEnai shi, SEX nante yume no yume, kangaeta koto mo arimasen." (25 yrs, 221 kg / 487 lb)
"No longer do I have fears that because I'm fat I'm unattractive, or that sex is a dream of a dream."
"Kono karada dewa umaku SEX dekinai no dewa to shimpai desu" (34 yrs, 235 kg / 518 lb)
"I worry that this body can't do sex skillfully."
Kou shita shoukyokuteki na hatsugen no ippou, isei no ii iken mo tobidashita.
Such destructive speech on the one hand, and high-spirited opinions on the other, flew out.
"Saitei na no wa, futotta onna wa sex ni uete ite, sasoeba ikura demo nottekuru to kangaeteiru otoko. Sonna otoko wa, kotchikara negaisageke." (44 yrs, 178 kg / 392 lb)
"You can find any number of men who think they'll be invited because fat women are hungry for sex. I withdraw from these kind of overtures from such men."
Sare ni, mou sukoshi fumekomunda taikendan mo hirou-sareta.
At this, a few more broke in telling stories of their experiences.
"Debu no sex-tte, futsuu no sex to chigai ga aru you de nai no. Penis no oukisa ga hito ni yotte chigau no to onaji yo. Debu = sex-heta to omowarete iru you dakedo, sore wa gokai. Daiichi, otoko-tte yawarakai karada ga daisuki nanda kara. Sore ni, juuatsu ga kakaru to ecstasy o kanjiru-tte iu otoko no hita mo oui no yo." (43 yrs, 185 kg / 408 lb)
"Let's not talk about fat sex as if it's different from ordinary sex. It's like saying men have sex differently because their penises are different sizes. Fat people are made out to be sexually deficient but this is a misconception. In the first place, men have a great affinity for soft bodies. And a lot of them say they feel ecstatic at the feeling of weight on them."
Warubirezu ni kataru kanojo ni, kaijo wa warai to hakushu ni tsutsumareta. Otokotachi wa, tereta emi o ukabete funfun to unazuite iru. Sonotoki totsuzen, 30-dai sempan to omowaru yasegisu na dansei ga, kie-iru you na koe' de hanashi hajimeta.
The meeting place filled with laughter and applause for these timidly narrating women. Men meanwhile were nodding, humming acknowledgement, and floating bashful smiles. Suddenly at this time, a man who seemed in his early thirties began speaking in a vanishing voice.
"Boku wa, futotta josei shika ai-semasen. 10-dai de sore ni ki-zuki NAAFA ni nyuukai shimashita. Genzai, dousei shite iru hito ga ite', kanojo to kekkon shitai no desu ga kazoku ya yuujin ni shoukai dekinai. Kanojo ni mo sumanai shi jibun mo hajiteimasu. Dakedo, doushite mo 200kg no koibito o kakushite shimau no desu..."
"I am driven to love nothing but fat women. In my teens this led me to energetically join NAAFA. Right now I'm living with someone and want to marry her, but I can't introduce her to my family and friends. I feel endlessly ashamed of myself with regard to her, but I'm resigned to hiding my 441 pound girlfriend away..."
Ka no hatsugen ni, kaijou ga totan ni shizumariketta. Mi-wataseba, namida gunde iru mono sae iru. Otoko ni shite mo onna ni shite mo, koko ni iru hitobito niwa onaji you na keiken ga sukoshi na karazu aru kara da.
At this proposal, the meeting place went quiet. Looking around, one could see people moved to tears. Whether male or female, this was a body of people with no small number of like experiences.
Himanja ni shika seiteki miryoku o kanjinaimono wa, FA (debu-aikosha) to yobareru. Soshite, America de wa, jinkou no 5-10% ga FA da to iwarete iru. Otoko ni mo onna ni mo FA wa iru ga, "Nayami o kakaete iru FA niwa, danzen otoko ga oui" to, FA-muke' web-shi "Dimensions" no henshuuchou, Conrad Blickenstorfer-san wa kaisetsu suru.
Those who feel sexually charmed only by fat people are called FAs. It's said that 5-10% of Americans are FAs. Both men and women are FAs but, "Among FAs who carry anguish about it, aboslutely men predominate", FA-oriented web magazine Dimensions chief editor Conrad Blickenstorfer explains.
"Otoko wa futotteite mo tanomoshii, to shakai kara kyoyou sareru koto ga oui. Shikashi, futotta josei wa migurushii to sabetsu sarete shimau. Dakara, FA-dansei wa sou iu josei o ai-shita koto ni yamu no desu. Shuuai ni kanojo o shoukai de kizu, futari de hikiko motte shimau KE-SU mo oui shi, tatoe' COMING OUT shite mo, kazoku ga kanojo o kyohai-shi, kekkon o mitomenai to iu kanashii tameshi ga ato o tachimasen."
"Many men are permitted and approved to have some fatness by society which regard it as a sign of trustworthiness or reliability. However, fat women are subjected to discriminatory assessments of unsightliness. This is why FA males have worries over their love for such women. There are many cases where, unable to introduce a girlfriend to their circles, the pair seclude themselves, the family rejects her, marriages unrecognized; these are the sad examples of the severances which result."
Jishin mo FA de, 200kg no tsuma o motsu Blickenstorfer-san.
An FA himself, Mr. Blickenstorfer has a 441 pound wife.
Uji ni yoreba, FA no tenkeiteki nayami to shite hoka ni, "himan josei ga jibun o minikui to omoi-konde', kokoro o hiraite kurenai koto" ga aru to iu.
Among FAs' typical worries are that according to their families, "they imagine that fat women are ugly, and don't offer to open their hearts".
KAKU NO YOU NI KANOJO NO ONAKA NI YOJI-NOBORU NO GA SUKI
Describing how he likes to climb his girlfriend's tummy
---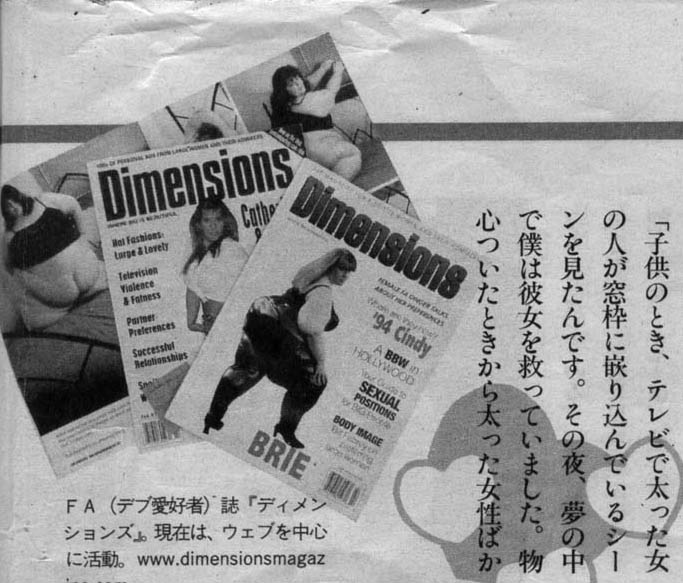 FA (debuaikosha) shi "DIMENSIONS". Genzai wa, WEB o chuushin ni katsudou.
FA magazine Dimensions. Presently, the core it's activity is on the web.
---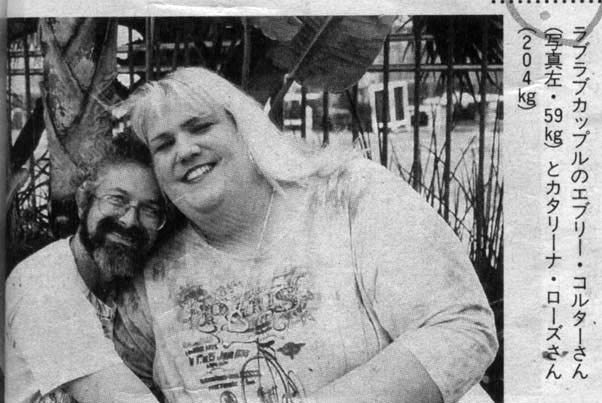 RABURABU COUPLE no Avery Colter san (59kg) to Katarina Rhodes san (204kg).
Love-love (or maybe rub-rub?) couple Avery & Kat
---
Koi ni nayami wa tsukimono dakedo, himanja ya sono partner no kunou wa yosouijou ni fukai you da. Dakedo rouhou mo aru. Kono suunen, SIZEWISE (taijuu de hito o sabetsu shinai) na CLUBS ya DATESITE ga kakuchi de tanjou shite iru no da.
Lovemaking worries stalk however, with fat people and their partners having deep overanticipation of problems. There is good news however. Over the past several years, SizeWise (non-weight-discriminating) clubs and dating sites have sprung into life in various places.
Raishun kekkon-yotei no Avery Colter-san (38-yrs, engineer) to Katarina Rhodes-san (39 yrs, tougeika (ceramic art professional)) mo, Yahoo no datesite de shiriatta couple da. De-ai kara hannengo ni, sizewise na nightclub de hatsu date shita futari wa, sonogo katamichi 3-jikan mono enkyorikousai o tsuzeke konyaku heto kogi-tsuketa. Avery-san wa, kissui no FA de aru.
Avery Colter (38, engineer) and Kat Rhodes (39, ceramic art professional), who are planning to marry next Spring, knew each other on a Yahoo dating site. When they met in person half a year later, they had their first date at a sizewise nightclub, after which they continued in a long distance relationship of three hours each way and "rowed up" to an engagement. Avery is a natural-born FA.
"Kodomo no toki, TEREBI de futotta onna no hito ga madowaku ni hamerikonde iru SCENE o misetan desu. Sore yoru, yume' no naka de boku wa kanojo o sukuite imashita. Monogokoro tsuita toki kara futotta josei kari ga suki de, hajimete seiteki miryoku o kanjita no ga 11-sai. Irai, shizen ni jibun ga FA da to jikaku shimashita."
"When I was very young, scenes of fat women squeezing through windows would be shown on television. The same night, I would have dreams of giving her assistance. For as long as I can remember I've only liked fat females (I think "especially" would have been more accurate), initially feeling sexual fascination at age 11. From that point, I naturally recognized myself as an FA."
Ichiban, Kat-san wa mizukara no hansei o kou furikaeru.
Kat personally looks back this way on the first half of her life.
"Nagai michi nori deshita. Jibun ni jishin ga motezu hikiko mori gachi datta. Demo, aru toki, kowai kedo soto ni deyou, bujoku sarete mo ii kara sono RISK o seotte miyou to omottan desu. Soushitara, mattaku chigau jinsei ga matte imashita."
"I've ridden a long road. Lacking my own self confidence I tended to confine myself indoors. But, once, despite being fearful I tried going outside, thinking let to shoulder the risk and it was OK if I was slighted. As a result, a whole different life awaited."
Avery-san 59kg, Kat-san 204kg, 150kg mono taijuusa ga aru futari ni, koremade shougai wa nakatta no darou ka?
With a 320 lb weight differential bewteen the 130 pound Avery and the 450 pound Kat, is this likely not to have been an obstacle so far?
"Tsuyoi ishi sae areba sabetsu wa norikoeraremasu. FA-dansei ni wa, seken kara koibito o mamoru no wa jibun da, to iu koto o jikaku shite hoshii. Hantai ni fototta joseitachi ni wa, kimitachi wa sonomama de juubun ni utsukushii no dakara, dekirudake suhada o misete KIRAKIRA to ikite! to tsutaetai."
"With a strong will discrimination is surmounted. For FA males, to defend lovers from society is something you want to keep in mind. With resistant fat women, I want to tell them, because you are all perfectly beautiful as you are, as much as you can show your bare flesh and live as if you glitter/sparkle/glisten!" (That's the literal translation. I think this was more that she asked what I try to do with women who are still ashamed, and I was saying that they should be revealing as much as they can because their flesh glimmers to admirers' eyes.)
Avery-san ga sou iu to, Katarina-san wa kanmuryou to itta hyoujou de, kogara na kare o gunyu-n to ouki na karada ni tsutsumikonda. Hitome o habakaranu atsui houyou ni, watashi wa, omoikitte futari no SEX ni tsuite tazunete mita. Suru to, Avery-san ga "Mattaku mondai nashi!" to sokuza ni kotaeta.
As Avery said this, Kat, with a facial expression so to speak full of deep emotion, wrapped up her little boyfriend like "gunyu-n" (I'll have to get back to you on this one). During this hot embrace unhesitant of public eyes, I resolutely tried to inquire about sex between the two. Avery immediately replied "No problem!"
"Himanja doushi da to muzukashii kamoshirenai kedo ne'. Boku wa kanojo no karada ga daisuki. Fure' tokoro ga ippai aru shi, puniyupuniyu to achi kochi ga yawarakakute, maru de HA-PU o kanadete iru you da mono."
"Fat people might be difficult companions though. For myself, I really like my girlfriends's body. There's a lot of touch time, here and there she is squishy and soft, it's a thing quite similar to playing a harp."
Kare no kotoba o hikitsuite, Katarina-san ga hosoku suru.
Taking over his words, Kat supplements.
"Kare no konomi wa kijoui. Sore ni, SEX naka wa akari mo issai kesasete kurenai no."
"His liking is horseback stance (the name in Japanese for woman-on-top). Moreover, in sex he is a light I am unable to turn off."
"Datte, boku wa subete o mite itai kara. Sore ni, kijoui da to juuatsu ga atte saikou nan da. Sousou boku wa, neko-mitai ni kanojo no onaka ni yoji noboru no mo, totemo s'ki na no."
"Also, because I want to be seeing everything. Besides, in horseback the pressure is supreme (I like the feeling of weight on me). Oh, yes, it's also extremely pleasant to climb on her tummy like a cat."
Yareyare, mou katte ni hanashite nasai!
Whew, keep saying it your own way!
ISHI AREBA MICHI ARI, DEBU NO SEISEI KATSU NI SACHI ARI.
Where there is a will there is a way. All the best with fat people's sex lives.
---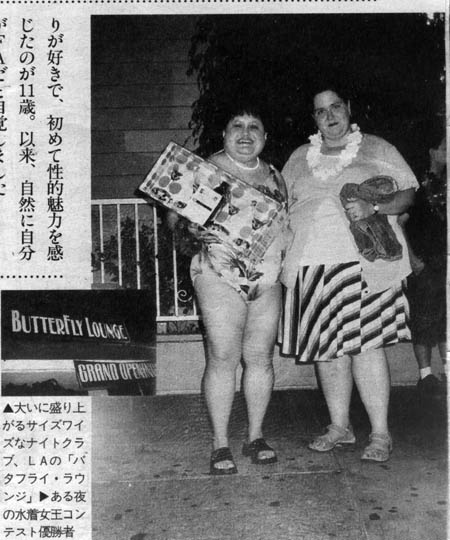 Ouki ni moriagaru SIZEWISE na NIGHTCLUB, LA no "BUTTERFLY LOUNGE" -> Aru yoru no mizugi-jo'ou CONTEST yuushousha.
Extensively rising sizewise nightclub, LA's Butterfly Lounge -> one night's swimsuit queen contest winners.
---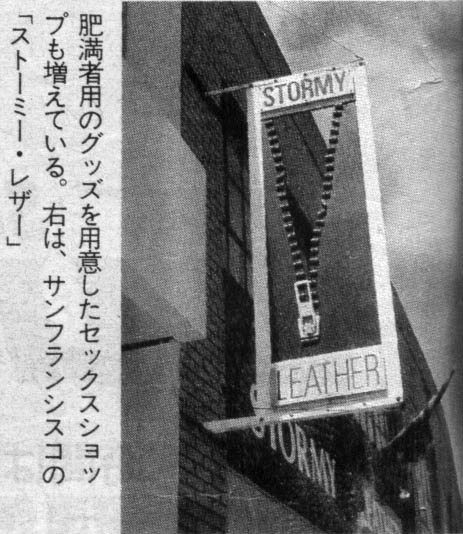 Himanjayou no GOODS o yoi shita SEXSHOP mo fueteiru. Migi wa, SF no STORMY LEATHER.
Sex shops which stock goods for fat people's commerce are also becoming more numerous. Right, SF's Stormy Leather.
---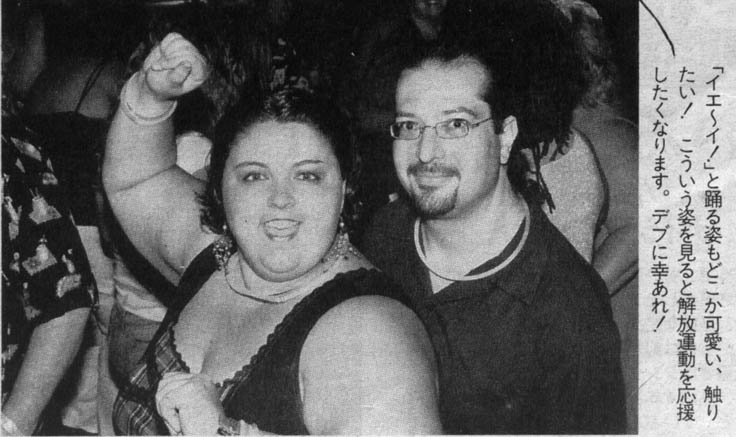 "IE-I!" to odoru sugata mo dokoka kawaii, sawaritai! Kou iu sugata o miru to kaihouundou o ouen shitaku narimasu. Debu ni sachi are'!
This cheering dancing figure and her sweetheart, wanting to touch! As one watches these figures one comes to want to cheer on this movement. All the best to the chubbies!
---
Kyou mo mata Amerika no dokoka de, futotta otoko to onna ga de-ai, koi ni ochi, soshite sex-suru -
And everywhere in America, fat men and women are meeting, falling in love, and having sex -
Himanjakaihouundou ga sakan ni naru ni tsure, futari no you ni oote o futte' SEX o kataru hitobito ga fuete kita. "Sei" no juyou na PART o shimeru "Sei" o katarazu-shite', makoto no kaihou wa nai to iu ronri da. Dewa, ittai, Amerika ni 6000-banjin mo iru futotta hitobito wa donna SEX o shiteiru no darou ka?
As the fat people's liberation movement gains popularity, an increasing number are talking about sex with both arms swinging. There is a logic which says that without telling of the "sex" which comprises an essential part of "life", the truth is not unleashed. Well then, really, what kind of sex are the 60 million fat people in America likely having?
Koko ni ichisatsu no hon o shoukai suru. Himan sex shinansho no hakubi to utawareru "BIG BIG LOVE". Bunka ya rekishi no kanten kara himan to sei o kaisetsu suru katawara, himanjayou no seigijutsu ya, SEXSHOP-LIST nado mo keisai shita ishoku no fumi da. Chosha wa, bunka-shigakusha no HANNE BLANK-san.
Here we introduce one book. A fine example of a fat sex instruction book to be admired, "Big Big Love". Besides commentating on fat and sex from a cultural and historical viewpoint, sex techniques oriented to fat people, sex shop lists, and other appearances make for unique writing.
"Kihonteki ni, himanja to sou de nai hito no sex ni taisa wa arimasen. Toukeijou, bokki-shita danseiki no heikinteki na nagasa wa 12.7-13.97 cm to iwaremasu ga, himandansei no SIZE mo kono hanchuu. Douyou ni, joseiki no SIZE mo ippan heikin dashi, SIZE no keitai ni mo kawari wa nai no desu. Tadashi, onaka ya oshiri ga tsundashite iru dake ni, tashou kufuu o shinakereba nara nai koto mo arimasu ne."
"Fundamentally, there is no great difference in the sex of fat people and those who are not. As far as statistics are concerned, the erect male organ's average length is said to be 5 to 5.5 inches but, fat men's size is in this range. In the exact same way, fat women's organs are generally average, size and shape not deviating from the usual case. However, the case being that tummies and butts bulge out, there are circumstances where a little scheming has to be done."
Sono "kufuu" no bubun o shoukai shita no ga, gedan no "yonjuuhachite" da. Kore o yomi kagiri, yappari himan SEX-te futsuu no sore to soutou chigau you na ki ga suru no da ga----
For an introduction to a portion of these "schemes", see the lower inset story of the "48 methods". As best I could read this, I get a hunch that absolutely fat sex generally has some reasonable differences----
"Sex no sanaka ni seiki ga okashi na oto o tatetari, hen na taisei no mama ugokenaku nattari shita keiken ga anata ni mo aru deshou? Sou iu toki, iroiro kufuu suru ja nai desu ka? Onaji douri desu yo. Sex de daiji na no wa, taijuu dewa naku, communcation to warai no SENSE. Sore sae areba, donna ni futotte ite mo SEXLIFE o mankitsu dekiru. Ishi areba michi ari! desu."
"Haven't you too had times in the middle of sex where funny sounds arise, sometimes not being able to avoid striking strange postures? In those kind of times, don't you use various schemes? It's the same reason. The big thing about sex is, not weight, but communication and a sense of laughter. If that is there, there's so much someone who is fat can fully enjoy with their sex life. Where there is a will there is a way."
Blank-san o tazuneta nochi, watashi wa kanojo ga suisen-suru SEXSHOP ni ashi o hakonda. Soko ni wa, ippan no SEXGOODS to narande, oukina oukina COURSEPLAY ishou ya PENISBANDO, shitagi nado ga kazararete ita. Sore ni, futotta hito wa te ga todokinikui kara to iu koto de, totemo nagai omocha no PENIS mo chinretsu sarete ita. Sono PENIS o misete, watashi wa "korya kahogo da you" to omotta. Koko made', himanja no tachiba ni naru hitsuyou ga aru no darou ka, to. Da ga, sou kubi o kashigeru ichiban de, watashi wa mata, kojin no kenri o tetteiteki ni tsuikyuu suru, AMERIKA to iu kuni no "nademo ari" no zubotosa mo kanjite ita.
After inquiring of Ms. Blank, I turned my feet to the sex shops she recommends. There, universal sex goods were lined up, lots and lots of "courseplay" costumes, penis bands, underwear etc. were adorned. Moreover, because there are cases of fat people having difficult reach, very long toy penises were exhibited. As I looked at these penises, I thought "This is excessive care". After all, I wondered whether this is essential in what comes to be fat people's situation. And yet, as I tilt my neck to the side, I again feel, as I investigate thoroughly these personal priveleges, the "by all means" cheekiness of the country called America.
Mizo-u no himan daikoku de ubugoe' o ageta himanja kaihou undou ga, kongo ikanaru hirogari o misete iku no ka. Iyoiyo dohyou wa hakunetsu no tenkai de aru.
In the unprecendented great fat nation, is the fat liberation movement which issues its birth cries, from now on/hereafter displaying any kind of spread? More and more in this arena there is an expansion of brilliance.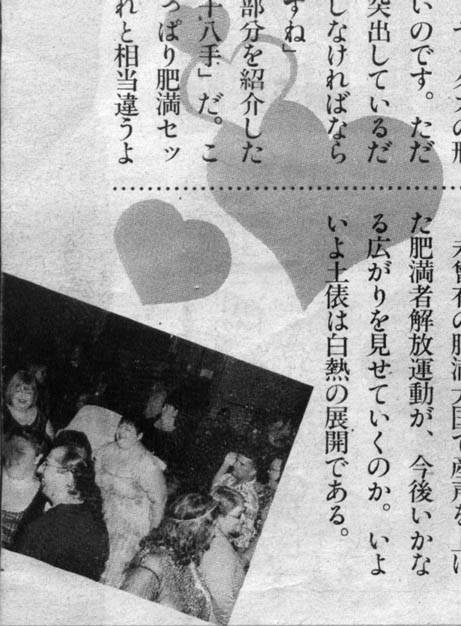 ---
Koremo kaihouundou no ikkan! MEMBER ga O-RU DEBU no SYNCHRO TEAM.
Here is a link to the liberation movement! Members of an all-fat synchronized swimming team.
---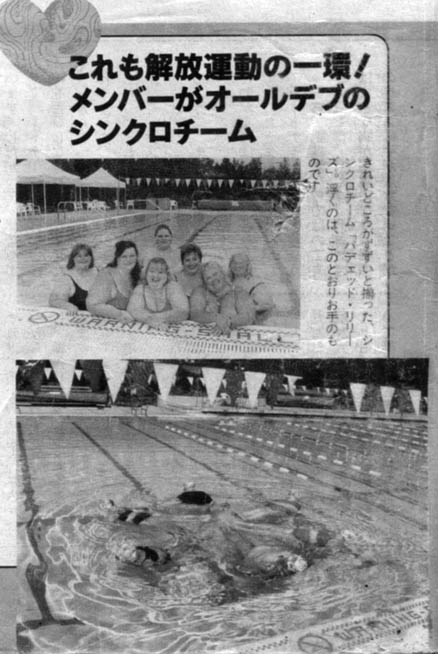 Kirei dokoro ga zuzui to sorotta, SYNCHRO TEAM "Padded Lillies". Uku no wa, kono toori o te no mono desu.
Gathered here in this pretty place, the synchro team "Padded Lillies". Floating, this way is their own thing. (See the SFBA Fat Hub Yahoo group.)
---
"Himanjakaihouundou" no hyougenja ni wa, '02-nen ni "Vogue"-shijou hatsu no PLUS SIZE MODEL o tsutometa KEITO DIRON ya, futome no MODERN DANCERS, Alexandra Bella, Himan Revue dan no "BIG BURLESQUE" nado ga agerareru. Ga, nan to ittemo CHARMING na no ga "PADDED LILLIES" da. Datte, kono hitotachi, futotta KARADA o kakusu dokoro ka SYNCHRO o enji chau no dakara.
As representatives of the "Fat People's Liberation Movement", in '02 Vogue Magazine's first plus size models, Kate Dillon, heavy modern dancers, Alexandra Bella(?), fat revue group "Big Burlesque" etc are presented. But, to say the least one charming example is the Padded Lillies. Because these people perform synchronized swimming without hiding their fat bodies at all.
Lillies no rekishi wa, '97-nen ni sakanoboru. San Francisco no himanja-muke' suiei kyoushitsu ni kayotte ita suunin no onnatachi ga, aru nichi, "Synchro o yarou" to omoi-tatta. Koremata nantomo daitan de omoi-kitta sentaku da ga, souritsu MEMBERS no hitori, SHIRLEY SHEFFIELD-sa wa kou jukkai-suru.
The Lillies' history goes back to '97. Several women who were attending a San Francisco fat-oriented swimming class, one day, resolved: "Let's do synchro!" At this point they despaired that this was a quite daring choice, as one of the organization's members, Shirley Sheffield, recollects.
"Futotte-itatte nandemo dekiru-tte koto o shoumei shitakatta no. Sore ni, donna nikutai mo ono-ono suteki nan da to yo no naka ni tsutaetakatta."
"Being fat, we wanted to prove what we could do. Moreover, we wanted to impart to the world that every body, all flesh, is SUTEKI (translates as lovely, dreamy, beautiful, great, fantastic, superb, cool)."
Hayabaya to COACH o tsukete honkakuteki na renshuu ni hagemunda kanojotachi wa, tsui ni koen irai o ukeru made ni joutatsu-suru.
Immediately these women, who were zealous in following their coach's fundamental rehearsals, advanced before finally receiving public performance requests.
"Futotta KARADA wa ukiyasui kara, jitsu wa synchro dou ki. Hantai ni, muzukashii no wa shizumu koto ka na. " "Because fat bodies float easily, in fact synchro is right up our alley. On the other hand, the difficult thing to do is submerge, no? "

Genzai, kotei MEMBERS wa, 20-dai kara 60-dai no josei rokunin. Sore ni, kouen ji ni go, rokujin ga kuwawaru.

Currently, there are six permanent members aging from the 20s to the 60s. And at performance times five or six join in.

"Toku ni, wakai onna no ko ga 'Watashi ni mo mizugi ga kirareru to wakatta' to yorokonde kureru. Demo, sono kotachi-tte zenzen futotte nai. Kono kuni 'yasenakyabyou' ni okasarete iru no ne."

"Particularly, young girls say with delight, 'I too can wear a swimsuit'. However, these girls aren't fat at all. In this country you see they are invaded by the idea 'you're ill if you're not thin'."

Tokoro de, TEAM-na no "Padded Lillies" wa, lilly pad (mizubachisu) to, pad (tsumemono) no goseigo. "Debu-tcho no yuritachi" to demo yakuseba ii no ka, debu de aru koto ni nan no terai mo nakute, omowazu fukidashiteshimau meimei da.

By the way, the team's name is comound word of the water lotus and padding. "Fattened lillies" is one possible translation, with no pretense at all about being fat, it was a name which ended up with them spontaneously bursting into laughter.

"Kore kurai warai no SENSE ga nai to DAME deshou. Kaihouundou ni wa, chisei to asobi ga hitsuyou nan ja nai ka na." (MEMBERS no Natalie "BOERO"-san)

"It's useless, hopeless and no good not to have a sense of laughter about this. In a liberation movement, is it not essential to have intelligent fun?"

Mezasu wa, "FAT-kakumei de, jibun o kaeru, sekai o kaeru." Gambare', Lillies! HAKKYOI NOKOTTA (-tte, chito chigau ka).

They have their eyes on "the fat revolution: changing oneself, changing the world." You Go, Lillies! HAKKYOI NOKOTTA (a little differently said?). [HAKKYOI NOKOTTA is sometimes translated as "Ready, Go". Not sure if they use that in swimming races; they are traditionally calls uttered in sumo matches. Under the formal rules, "Hakkeyoi" is what the referee says when he confirms the opponents are prepared to go at it or when they're not moving in the ring, and "Nokotta" when one opponent puts a move on the other to indicate that they both "remain" in commission.]
---
HANNE BLANK-JOSHI GA DENJU-SURU "HIMAN SEX YONJUUHACHI TE" TO WA?
Just what are the "48 Techniques of Fat Sex" Ms. Hanne Blank instructs?
---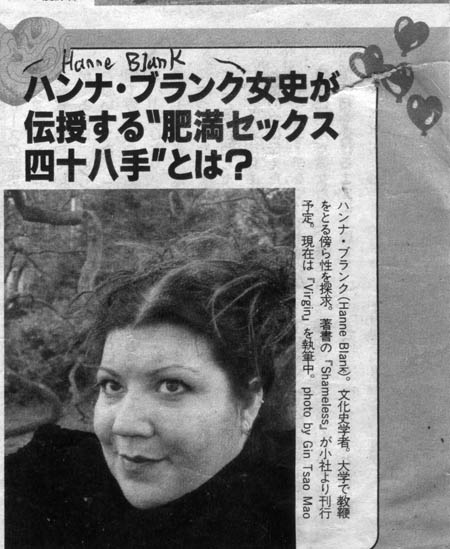 Hanne Blank, bunkashigakusha. Daigaku de kyouben o toru katawara sei o tankyuu. Chosho no "SHAMELESS" ga shousha yori kankou yotei. Genzai wa, "VIRGIN" o shippitsuchuu.

Hanne Blank, cultural historian. While attending a university teaching school she pursued the subject of sex. From her own company publication is planned on the book "Shameless". Currently, she is in the middle of writing "Virgin".
---
Hombun demo fureta, debu no sex shinansho "Big Big Love". Bunkashigakusha de ari, jishin mo himan de aru chosho no te ni yoru dake ni, kazuka ni iri isasa o ugatsu taicho da. Ika, naiyou no ichibu o shoukai shiyou. Sankou ni naru ka wa betsu to shite.

Refer to the text of the fat sex guide book "Big Big Love". Being a cultural historian, as might be expected from my book since I'm fat myself, it became a voluminous tome of many little entries. Following, I'll introduce a part of the contents. See if it can be a reference for you.
Hamjime ni (to begin)
Himan sex ni wa, tsune ni taijuu ni yoru "appaku" to iu kiken ga tomonaimasu. Shitagatte, taijuu o subete PARTNER ni azukenai gijutsu o shuutoku shinakereba narimasen.

Fat sex is constantly in accompanied by peril of weight-related "oppression". Consequently, it won't do if we don't acquire techniques that don't rely on a weight-controlling partner.

Dakara to itte, manga de kakareru you ni, PARTNER ga chissoku-shitari tsuburetari suru shimpai wa muyou. SEX-juu wa tsune ni aite no hannou ni chuushi shi, kikenshingo o satchi-suru you ni. Mata, "mazui" kanjita toki ni, ashi ya te o BATABATA to ugokasu no wa gyakkouka. Toriaezu wa, KARADA o goron to korogashite PARTNER kara hanaremashou.

While it might be illustrated in comic books, the fear of suffocating or smashing partners is unnecessary. By always closely observing your lover's reactions, you should sense any danger signals. Also, at times of feeling "awkward/ugly/unpleasant", flailing ones arms and legs around is counterproductive. You should immediately separate from a partner who is rolling around like a demon.

Ichiban, himanja nara dewa no kufuu mo taisetsu desu. Tatoeba, himan josei wa ooki na mune' ga jama ni nari, aite no penis ni te ga totokenai koto ga arimasu. Sonna hito wa buraja- o tsuketa mama sex suru to ii deshou. Koushita kufuu tsumikasane' ga, juujitsu-shita sexlife o hagukumu no desu.

Foremost, there are important tactics for fat people. For example, if a fat woman's large breasts hang far down, it might be the case that her companion's penis doesn't reach. It's good in this case to wear a bra while having sex. Such devices' accumulation lifts up a full & complete sex life.
SeiJouI - "normal", missionary position
Onaka ga butsukari danseiki o sounyuu shizurai no de, himanja ga mottomo futokui na tai-i. Soko de, josei no koshi ya oshiri no shita ni makura ya cushion o oku koto o o-susume shimasu. Sou sureba, juuryoku no housoku de isasaka nagara mo onaka no deppari ga kanjiru shi, sounyuu shi yasui kakudo mo kakuho dekimasu. Sono ue' de, josei no hiza o tatemashou. Hiza o tatereba, himanja ga nigate na kaikyaku mo raku ni narimasu.

As the male organ's strike is hard when colliding with a tummy, this is the posture with the most weak points for fat people. Accordingly, putting a pillow or cushion under the woman's hips and butt is recommended. If this is done, through the law of gravity a little shift in the belly's protrusion is experienced, which can ensure an easier strike angle. In addition, the woman should raise her knees. If her knees are raised, the leg-spreading which is diffucult for fat people becomes more comfortable.

Soredemo umakuikanai ba-ai wa, ganjou na tsukue' nado no ue' ni josei o nose', tatta shisei no dansei ga sounyuu shimashou.

In case this still is unsuccessful, it should be possible if the woman lays on top of a strong desk or similar thing, and the man stands.
BAKKU - "back", or rear-entry
BAKKU-koso, himanja no mikata. Tadashi, dansei o-naka ya josei no o-shiri ga ookisugiru to mondai ga okuru koto mo. Soushita kiwa wa, omoikitte dansei no onaka ni niku o mochiage, josei no oshiri ya senaka no ue ni oite kudasai. Dansei wa hazukashii nante omowanaide. Jitsu wa, josei wa sou sareru koto ga suki na no desu. "PARTNERS no karada ni tsutsumare', nikutaiteki kaikan to seishinteki juusoku o kanjiru" to iu houkoku ga tasuu yoserarete imasu.

Rear entry for sure is the fat person's friend. However, the problem occurs when males' bellies and females' butts are exceedingly large. At this point, the male should resolutely lift up his belly, and place it on top of the woman's butt and back. Men, don't be embarassed about this. The truth is, a lot of women like this. A great number of reports are gathered that "covered with their partner's body, they feel bodily pleasure and emotional fulfillment".

Nao, BAKKU wa nanimo sounyuu no tame' dake' ni aru no dewa arimasen. "BAKKU motomomo" wa himanjatengoku. Momo nimo oshiri nimo tappuri shibou ga notte imasu kara ne.

Furthermore, rear entry is not only for the purpose of penetration. "Rear-entry bare thighs" are the fat person's paradise. Because thighs and butts have plentiful fat to get up on, don't they.
KiJouI - "horseback stance", or woman-on-top
Himanjosei wa KARADA ga marumie ni naru kono tai-i o kiraigachi desu ga, zehi chousen shite kudasai. Koto ni dansei mo futotte iru ba-ai wa, aomuke ni naru koto de niku ga waki ni hirogari sounyuu ga fukanaru no de, kitai ijou no manzoku o urareru deshou.

Though fat women tend not to like this position in which their bodies become completely visible, certainly challenge this. Above all when the man is fat as well, when he lies face up his flesh spreads out to the sides and penetration is deeper, and greater than expected satisfaction should be obtained.
ZaI - sitting position
KiJouI no VARIATION. Dansei ga sofa ni suwari josei ga sono ue ni noru. Onaka ga ookisugite sounyuu shizurai ba-ai wa, sofa o jakkan reclining sasemashou.

Horseback Stance variation. The man sits on a sofa and the woman gets on top of him. In case bellies are too large and makes for a difficult strike, many sofas can be reclined.

Mata, josei no taijuu ga futan ni naru you nara, sofa no ude ya sena ni te ya hiji o oite kudasai.

Again, if the woman's weight becomes a burden, put your hands and elbows on the arms and back of the sofa.
RitsuI - standing position
Yasete ite mo muzukashii position desu. Mashite ya himan couple ni oite oya. Seikou no hiketsu wa tada hitotsu. Kabe nado ganjou na mono o haikei ni shite, shikkari to BALANCE o toru koto desu.

This is a difficult position even for the thin, to say nothing of fat couples. There is only one key to success. Make a wall or other sturdy thing the setting, to reliably maintain balance.
Oral Sex
Himanja no ba-ai, oral sex ni juubun na hodo momo o ake nai koto ga ooi mono. Mazu wa, sareru hou ga aomuke ni nari hiza o tate yukkuri to moro hiza o sotogawa ni tao-shimashou. SeijoI douyou, o-shiri no shita ni makura o ateru no mo koukateki desu.

In the case of fat people, often thighs don't open enough for oral sex. To start with, you should lie face up and raise your knees and slowly bring down both knees outwards. Like "normal" position, it's also effective to use a pillow under the butt.

Ichiban, BAKKU-shisei no partner o semeru te mo arimasu. Tada, semeru hata ga futotte iru to hau no ga konnan desu ne. Sonna toki wa, sareru hata wa BED no hashi de BAKKU-shisei o totte kudasai. PARTNER wa, BED no sotokara tatta shisei de taisho dekiru no de koui ga youi ni narimasu. Soredomo, fujiyuu nara yokomuki de douzo.

Foremost, one can also strike ("semeru" is literally to attack or assault; I assume this is how they say "go down on") a facing-away partner. Only, when the striker is fat crawling is a difficulty. In this case, have the recipient ("sareru hata" = "the person to which it is done") take the facing-away posture at the edge of the bed. The partner then has an easy deed to deal with standing posture from outside the bed. Nevertheless, if that is inconvenient or uncomfortable by all means turn sideways.
Chibusa/Nyuubou ni yoru aibu - breast caressing
Futotta josei ga honryou hakki dekiru TECHNIQUE. Dansei mo futotte iru ba-ai wa, josei no mune' ni matagaru-sai ni hiza de taijuu o sasaete kudasai. Gyaku ni, aomuke no dansei ni josei ga matagaru-sai wa, josei mo douyou ni hiza de taijuu fuka o keigen shite kudasai. Yoko ni natte yuki no mo ii deshou.

A technique fat women can especially utilize. When the man is also fat, when straddling the woman's breasts support the weight with the knees. Conversely, when the woman is straddling a facing-up man, likewise the woman should abate the load with her knees.
Bangai Hen (extra part): Bondage
Daiichi ni, SIZE no awanai GIRDLE nado de KARADA o shimetsukesuginai you ni. O-susume wa, kawaseihin yori zutto FLEXIBLE na Nihon no himo ya rope rui to sono TECHNIQUE desu. Nao, kagu nado ni nikutai o shibaru ba-ai wa, jizen ni kyoudo o nyuunen ni CHECK no koto. Sara ni, tsurusu ba-ai wa yori issou chuui shite kudasai. Omowanu jikou o okoshi kanemasen.

In the first place, you shouldn't compress a body excessively from too-tight girdles and other such things. A suggestion is, this technique does well with flexible cords straight from out of leather goods, flexible Japanese cords and ropes. Still/yet/furthermore, when binding bodies to furniture etc, is the time to very carefully check the strength/intensity beforehand. furthermore; again; after all; more and more; moreover;, when suspending someone be all the more careful.
---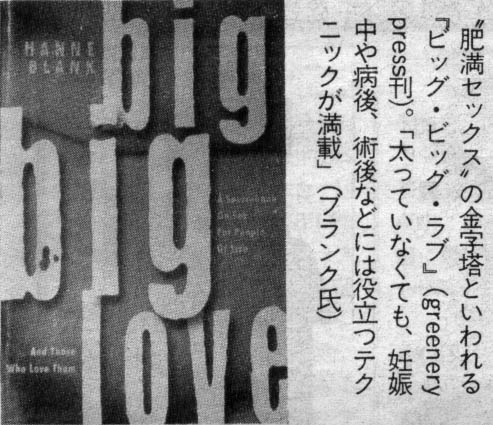 "Himan Sex" no kinjitou to iwareru "Big Big Love" (Greenery Press-kan) "Futotte inakute mo, ninshinchuu ya byougo, jutsugo nado ni wa yakudatsu technique ga mansai." (Blank-Shi)

"Big Big Love" (Greenery Press) which is called a monumental "fat sex" work. "Even if one is not fat, it's loaded with useful techniques for pregnancy, post-illness, post-surgery etc." (Ms. Blank)